What a great blessing to celebrate the first Afro Funke' of 2011 with the Afro Funke' Sound System featuring resident DJs Jeremy Sole & Glenn Red plus host Rocky Dawuni with all of our extended family of revelers! Special thanks to percussionist Tom Orr for gracing us with
his music as well as surprise guests Marwan Mograbi on percussion and
Fuzzbee Morse on flute.
This week we have a VERY special super star DJ guest for his return to Zanzibar after many many moons. Do NOT miss this show – presale tickets available now!!
www.templebarconcepts.tickets.musictoday.com/TempleBarConcepts/calendar.aspxJoin US….
—————–:~0~:——————

——————:~0~:——————
THURSDAY, January 13, 2011
——————:~0~:——————
AFRO FUNKE'
WEEKLY FUNK INVOCATION
——————:~0~:——————
Afrobeat, Brazilian, Dub, Reggae, Cumbia, Samba Disco,
African Salsa, Afro-Latin House, Indian Beats, Makossa,
Balkan, Funk, Blues, Highlife, Broken-Afro-Beat, Salsa,
& Other deep-rooted soul music from around the world
——————:~0~:——————
THE RETURN OF RICH MEDINA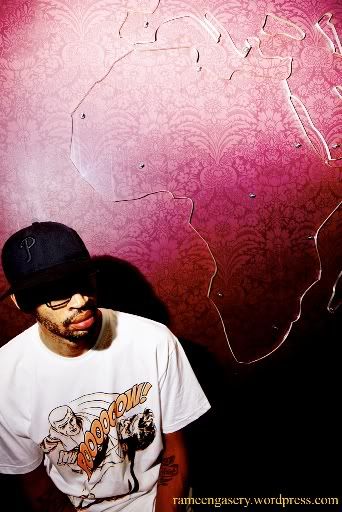 guest deejay:
RICH MEDINA
There are few nightclub DJs that have accomplished as much on a global scale as Rich Medina.
From his humble beginnings as a young b-boy-turned-DJ in Lakewood, NJ, to his current status
manning the decks as one of the most popular DJs in Philadelphia NYC, Rich Medina has consistently taken multi-ethnic crowds on a sonic journey through hip-hop, house, Afrobeat, funk and soul, unearthing one musical gem fter another, for almost 20 years.
Rich Medina cemented his name in the DJ world with his infamous 90's partnership with Cosmo Bakerat The Remedy in Philadelphia.In 1998, his Fun party with DJ Language was part of turning the Lower East Side of Manhattan into the new hot spot for club life. Then came the mother lode,
Lil' Ricky's Rib Shack, a weekly dance function that started out as a 20-person party at APT in 2001, and evolved into an irreplaceable mid-week NYC institution for over 8 years. There, he connected with fan and hip-hop legend Q-Tip in 2005, eventually combining forces to create the Friday night weekly called Open at the Andrew W.K.-owned Santos Party House in 2007, and was soon considered the hottest Friday night party in NYC for the next 2 years.
No less revered is Rich's Happy Feet party—where he and another pioneer of the turntables,
Nuyorican DJ Bobbito Garcia have traded off dance, salsa, and soul music at clubs all around the
world. Next of his branded events in line would be Props, the continuation of Li'l Ricky's since the
closing of APT in March of 2010. In 2008, he also co-founded What The Funke, a James
Brown/Fela Kuti tribute party with DJ Spinna.
In addition to his own events, Rich has performed in front of crowds of thousands, DJing shows
with artists like Lauryn Hill, De La Soul, Erykah Badu, Seun Kuti, Tony Allen, Nathan Haines,
Roy Ayers, Gil Scott-Heron, The Roots, Jill Scott, Antibalas, Zap Mama, and Femi Kuti, among
many others. From NYC to LA to London to Tokyo, and everywhere in between, music lovers
know not to miss a club night when Rich Medina is manning the decks.
www.richmedina.com
resident deejays:
JEREMY SOLE (KCRW/theLIFT/Musaics)
**Hear Sole's new remix for David Bowie featuring
Ticklah, the Budos Band and the Dap-Kings:
www.kcrw.com/bowie
www.kcrw.com/jeremysole
www.facebook.com/jeremysolefamily
www.twitter.com/jeremysole
www.soundcloud.com/jeremysole
resident deejay:
GLENN RED (Eclectica / NextAid)
www.glennred.com
hosted by:
ROCKY DAWUNI
**New Album "Hymns for the Rebel Soul" available at:
www.itunes.apple.com/album/hymns-for-the-rebel-soul/id350260482
www.rockydawuni.com
www.myspace.com/rockydawunimusic
EPK:
www.rockpaperscissors.biz/go/rocky
afro funke' photography, booking & production:
CARY SULLIVAN
www.myspace.com/carysullivan
www.facebook.com/afrofunke
——————:~0~:——————
AFRO FUNKE':
Thursdays @ Zanzibar
1301 5th St Santa Monica, CA 90401
9pm | 21+ (EVERYONE Must Have ID!) | 310-451-2221
PRE-SALE TICKETS
$12 presale / $15 at door!
www.templebarconcepts.tickets.musictoday.com/TempleBarConcepts/calendar.aspx
ZanzibarLive.com| AfroFunke.com
www.twitter.com/afrofunke
——————:~0~:——————
UPCOMING:
January 20, 2010
DJ JUN
(Umoja)
www.djjun.com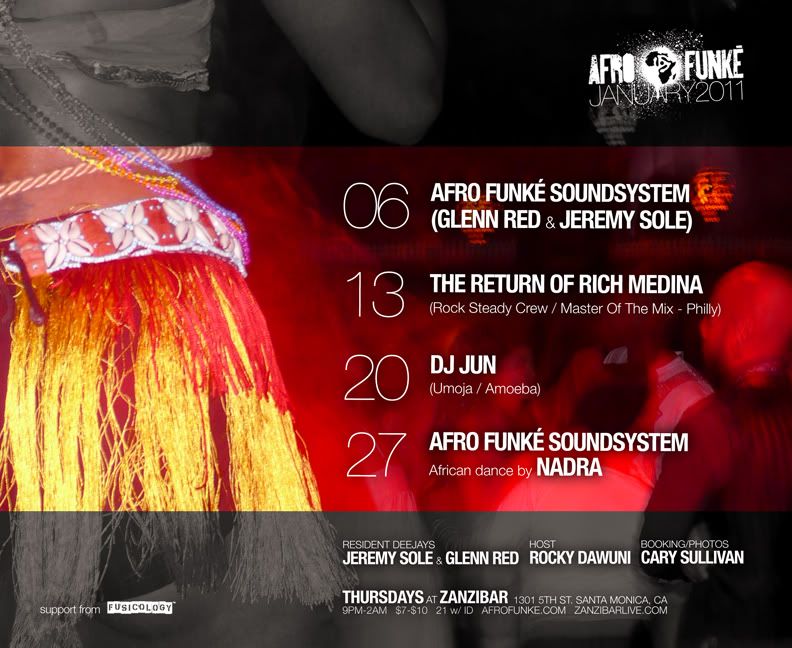 ——————:~0~:——————
TAKE A SEC TO JOIN THE FUNKE' FAMILY:
JOIN THE AF EMAIL BLAST
Add AFRO FUNKE' on: MYSPACE | TWITTER
——————:~0~:——————



*Exclusive Afro Funke' T-Shirts @ the club each week.
Plus hand made hats, bags, belts & more provided by:
www.bigalhats.etsy.com
——————:~0~:——————
With a little help from our friends:



+



——————:~0~:——————
"No problem can be solved from the same consciousness that created it.
We must learn to see the world anew."
Albert Einstein>